Home | About Us | Club Membership Details | News And Events | Miners Market | Forum/Message Board | links
Colorado Prospector club members - Click here to find your club membership benefits, links & info.

*Colorado Silver*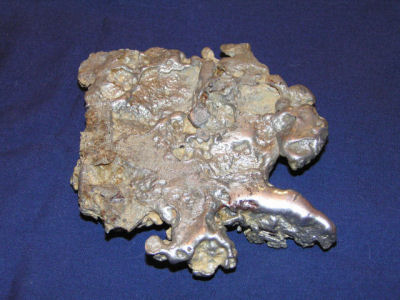 Colorado 2 lb+ natural silver nugget
Photo courtesy of finder/owner Leroy (forum username-Goldfinger)
Silver

Mohs hardness: 2.5 - 3

Common uses today - Electronics, photographic and imaging equipment, coinage, jewelry, superconductors, and water purification processes. Silver is also the most plentiful and least expensive of the "precious metals".

From Wikipedia - Silver
"A soft, white, lustrous transition metal, it has the highest electrical conductivity of any element and the highest thermal conductivity of any metal.
The metal occurs naturally in its pure, free form (native silver), as an alloy with gold and other metals, and in minerals such as argentite and chlorargyrite.
Most silver is produced as a by-product of copper, gold, lead, and zinc refining."

Check out the Mindat.org database for more detailed information about Silver.
CLICK HERE TO GO BACK!
Site Design by Dan and Denise (Owners/Colorado Prospector)
---