Home | About Us | Club Membership Details | News And Events | Miners Market | Forum/Message Board | links
Colorado Prospector club members - Click here to find your club membership benefits, links & info.

*Colorado Rhodochrosite*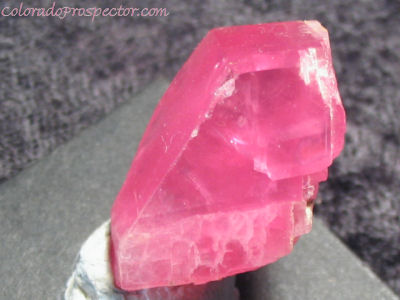 Rhodochrosite, a manganese carbonate mineral. In its rare pure form, it is typically a rose-red color, but impure specimens can be shades of pink to pale brown.

Mohs hardness: 3 1/2 - 4

Common uses today - Collector specimens, faceted jewelry (rarely), and an ore of manganese.

From Wikipedia - Rhodochrosite
"Rhodochrosite occurs as a hydrothermal vein mineral along with other manganese minerals in low temperature ore deposits as in the silver mines of Romania where it was first found.
Its main use is as an ore of manganese which is a key component of low-cost stainless steel formulations and certain alluminium alloys.
Due to its being relatively soft, and having perfect cleaveage, it is very difficult to cut, and therefore rarely found faceted in jewelry.

Colorado officially named rhodochrosite as its state mineral in 2002 based on a proposal by a local high school (Platte Canyon High School in Bailey,Colorado).
The reason for this lies in the fact that while the mineral is found worldwide, large red crystals are found only in a few places on earth, and some of the best specimens have been found in the Sweet Home Mine near Alma, Colorado."

Check out the Mindat.org database for detailed information about Rhodochrosite.
CLICK HERE TO GO BACK!
Site Design by Dan and Denise (Owners/Colorado Prospector)
---