Home | About Us | Club Membership Details | News And Events | Miners Market | Forum/Message Board | links
Colorado Prospector club members - Click here to find your club membership benefits, links & info.

*Colorado Gold*

Prospecting for Colorado gold is very educational and rich with mining history throughout the state. Using a pan, sluice, highbanker or dredge a prospector may find a gold nugget and rich concentrates.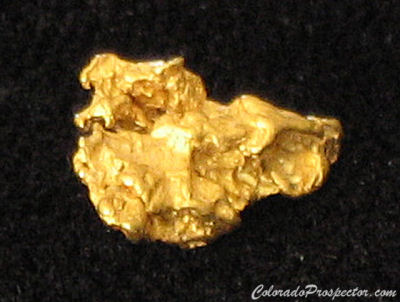 Colorado Gold Photo by Dan.




Gold is a precious metal with a density of 19.3

Mohs hardness: 2.5 - 3

Common uses today - Gold is used in the medical, air plane, air traffic control, electronics fields as well as space projects and glass production for the unique characteristics gold offers. The list goes on and on for gold uses and historically as we all know, for thousands of years as coinage/trade or money jewelry.

Gold is the most malleable and ductile metal known to man.

Colorado Gold - pictures in the CP forums.

From P&H Minepro.com website - Gold uses
"What Makes Gold So Amazing and Invaluable?
Gold does not corrode, crumble, or tarnish, and it is unaffected by moisture, oxygen or most acids, whatever the conditions. No other metal is as dependable as gold and it is virtually indestructible!

In space - Gold's unmatched reflective qualities protect spacecraft, astronauts and their instruments from the searing heat of the sun and infrared radiation.
The rocket engines of space shuttles are lined with four miles of gold-brazed tubing which carries liquid hydrogen. These tubes keep the nozzle of the shuttle cool and prevent it from melting at its operating temperatures of 6,000 degrees Fahrenheit.

In the air - Gold is used with nickel to bond compressor vanes in the huge turbines of commercial jetliners, enabling them to withstand exhaust temperatures of more than 1150 degrees Fahrenheit.
A thin transparent film of gold helps keep the pilot's windshield clear when subfreezing temperatures threaten cockpit visibility."

Check out the Mindat.org database for detailed information about Gold.

CLICK HERE TO GO BACK!









Site Design by Dan and Denise (Owners/Colorado Prospector)




---