Home | About Us | Club Membership Details | News And Events | Miners Market | Forum/Message Board | links
Colorado Prospector club members - Click here to find your club membership benefits, links & info.

*Colorado Goethite*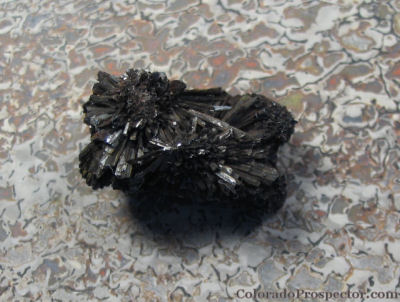 Goethite is an iron oxyhydroxide. The mineral forms prismatic needle-like crystals, but is more typically massive.

Mohs hardness: 5 - 5.5

Common uses today - As an iron ore called "brown iron ore" and as pigments for clays and paints.

Colorado Goethite - pictures in the CP forums.

From Wikipedia - Goethite
"Formation - Goethite often forms through the weathering of other iron-rich minerals, and thus is a common component of soils. It may also be precipitated by groundwater or in other sedimentary conditions, or form as a primary mineral in hydrothermal deposits.
Goethite has been well known since prehistoric times for its use as a pigment. Evidence has been found of its use in paint pigment samples taken from the caves of Lascaux in France.
Goethite is found all over the planet, usually in the form of concretions, stalactitic formations, oolites (a form consisting of tiny round grains cemented together), reniform (kidney shapes) or botryoidal (globular, like bunches of grapes) accumulations.

Significant deposits of goethite are found in England, Australia, Cuba, and Michigan, Minnesota, Missouri, Colorado, Alabama, Georgia, Virginia, and Tennessee in the United States.

Deposits significant in location, if not in abundance, have been found in Gusev by NASA's Spirit rover, providing strong evidence for the presence of liquid water on the planet Mars in an earlier stage of its development."

Check out the Mindat.org database for detailed information about Goethite.
CLICK HERE TO GO BACK!
Site Design by Dan and Denise (Owners/Colorado Prospector)
---