Home | About Us | Club Membership Details | News And Events | Miners Market | Forum/Message Board | links
Colorado Prospector club members - Click here to find your club membership benefits, links & info.

*Colorado Fluorite*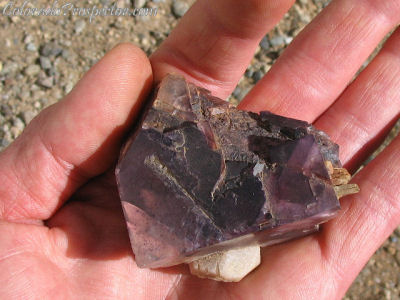 Fluorite is a calcium fluoride mineral.

Mohs hardness: 4

Common uses today - Smelting for steel and aluminum, opalescent glass, enamels, cooking untensils, highgrade telescopes, cameras, and optical elements in the semiconductor field.

Colorado Fluorite - pictures in the CP forums.

From Wikipedia - Fluorite
"The word fluorite is derived from the Latin root fluo, meaning "to flow" because the mineral has a relatively low melting point and was used as an important flux in smelting.
Fluorite may occur as a vein deposit, especially with metallic minerals, where it often forms a part of the gangue (the worthless "host-rock" in which valuable minerals occur) and may be associated with galena, sphalerite, barite, quartz, and calcite. It is a common mineral in deposits of hydrothermal origin and has been noted as a primary mineral in granites and other igneous rocks and as a common minor constituent of dolostone and limestone.

Fluorite is a widely occurring mineral which is found in large deposits in many areas. In the United States, deposits are found in Missouri, Oklahoma, Illinois, Kentucky, Colorado, New Mexico, Arizona, Ohio, New Hampshire, New York, Alaska and Texas. Illinois has historically been the largest producer of fluorite in the United States, however, the last of the mines closed in 1995. The Illinois General Assembly passed a resolution in 1965 declaring fluorite as the official state mineral."

Check out the Mindat.org database for detailed information about Fluorite.
CLICK HERE TO GO BACK!
Site Design by Dan and Denise (Owners/Colorado Prospector)
---