Colorado Diamond

The largest faceted diamond from North America came from Colorado's Kelsey lake mine, a 28.18 carat stone which was cut into a 16.8 carat gemstone. (Denver Post 1997)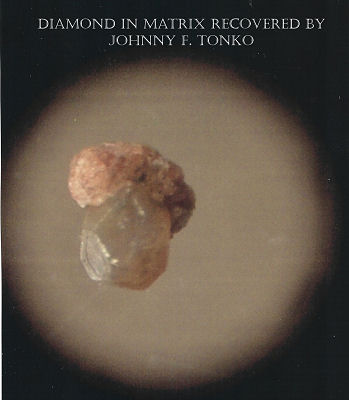 Colorado diamond in matrix
Photo courtesy of finder/owner Johnny Tonko (forum username-Astrobleme)


Mohs hardness: 10

Common uses today - Grinding of hard materials such as stone, metal, ceramics and in medical uses for micro scalpels. and also used heavily in jewelry.

Colorado Diamond - pictures and additional information in the ColoradoProspector forums.

From Wikipedia - Diamond
"Diamond is an allotrope of carbon, where the carbon atoms are arranged in a variation of the face-centered cubic crystal structure called a diamond lattice.
Diamond is less stable than graphite, but the conversion rate from diamond to graphite is negligible at ambient conditions.

Diamond is renowned as a material with superlative physical qualities, most of which originate from the strong covalent bonding between its atoms.
In particular, diamond has the highest hardness and thermal conductivity of any bulk material."


Check out the Mindat.org database for more detailed information about Diamonds.
CLICK HERE TO GO BACK!
---