I did some cleanup yesterday and thought I'd share some pics.
I plan on adding a recirculating cleanup sluice to the system (probably the new Keene Super Recirc.) this spring for the #20+ mesh stuff.... for now I'm panning that. Mesh #30 and smaller go into the Blue Bowl

.
I ran two separate batches of concentrate through the system, both from our very own CP!
Each were 2lb dry bags.
The first was concentrate was sent by Dan & Denise from the shavings and grindings (panning sample) included in the incredible gold/quartz cab that I won in the CP drawing (1st item down):
CP Stash
The second 2lb cons bag that I ran through was a special bag that Dan & Denise put together (which I requested) for Colorado gold (to be included in a project I'm working on). I am very grateful, exactly what I needed.

If you've got the cabin fever or just want to stay sharp with your cleanup techniques I highly recommend picking up some CP cons and gettin' busy. Me.... I'm still learnin'. I had a blast!
Here's how it went:
My indoor system is very tidy. As you can see I'm setting up shop on my nice area rug with no worries. Well, that and.... since my last girlfriend moved out there are no more rules here

. I'll also be wearing a tuxedo during the entire process
(the umbrella in the pic is for camera lighting)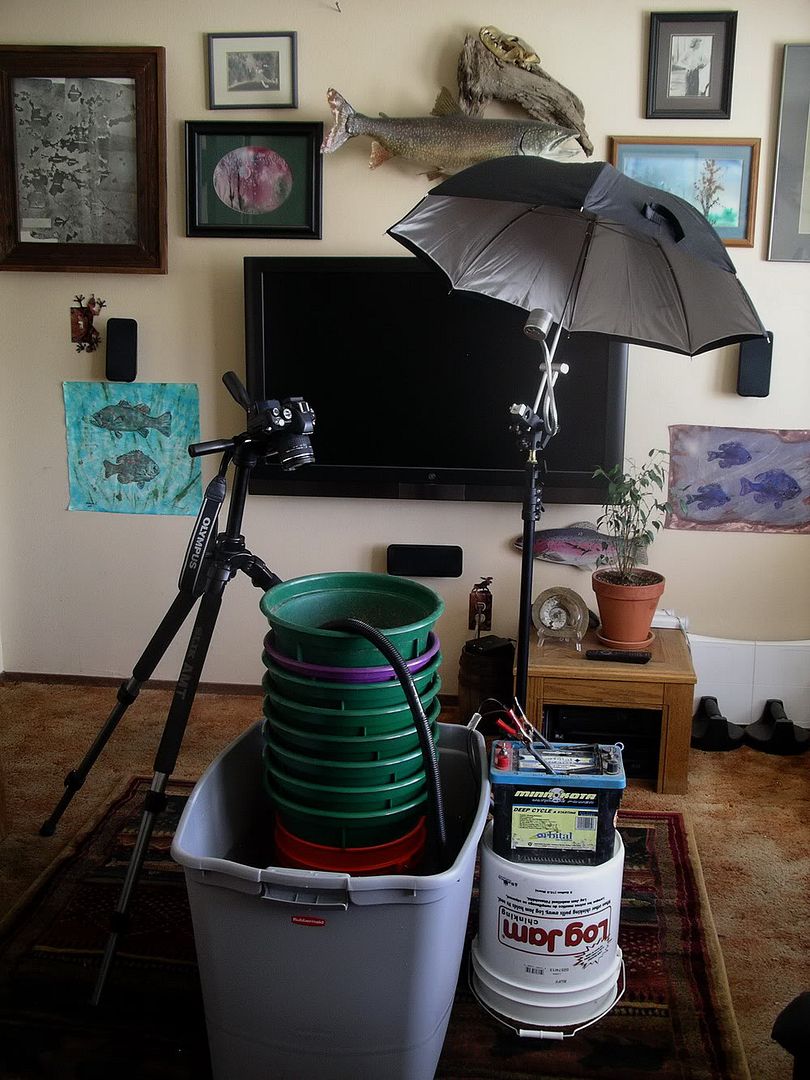 Some of my cleanup tools:
This is my basic recirculating setup The 36 gal Rubbermaid tub contains all of the splashback. I'll be attaching the spray nozzle (for rinsing classifying screens, etc.) and the Blue Bowl to the end of the recirc hose for each process.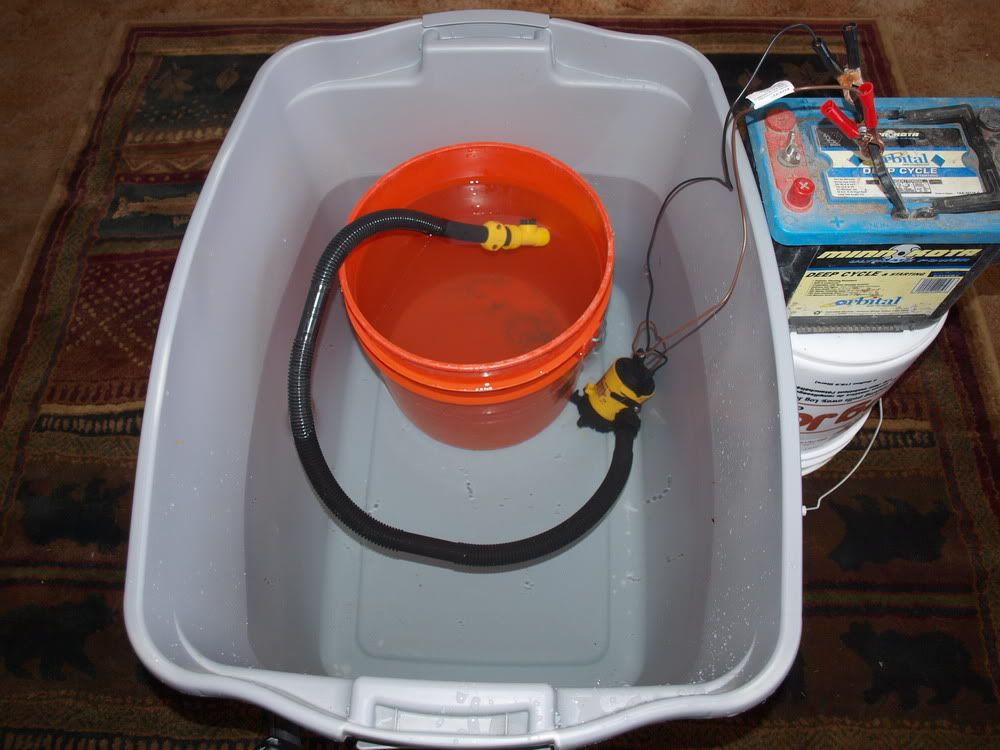 This is the first stack of screens - #2 mesh down to #30. Since I know I have a tendency to get these screens mixed up (and the magic marker will eventually wear off) I've taken the liberty of burning the mesh numbers into each screen rim with a rounded attachment on my woobuning tool.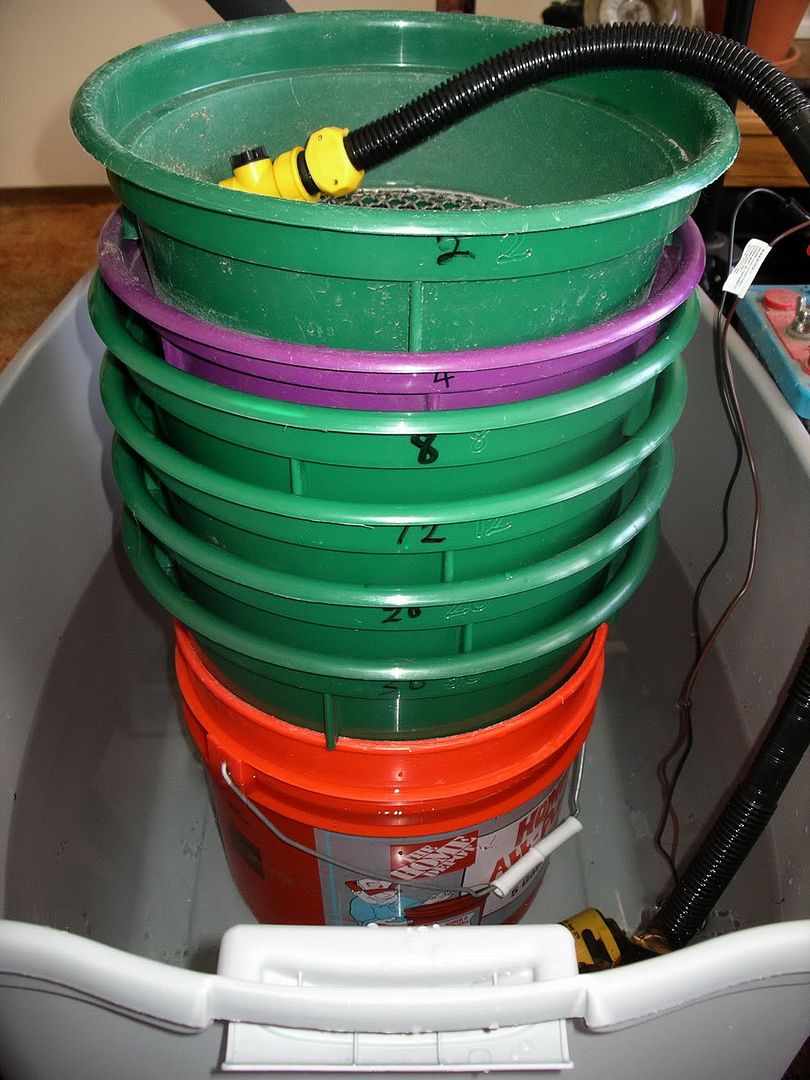 Dirt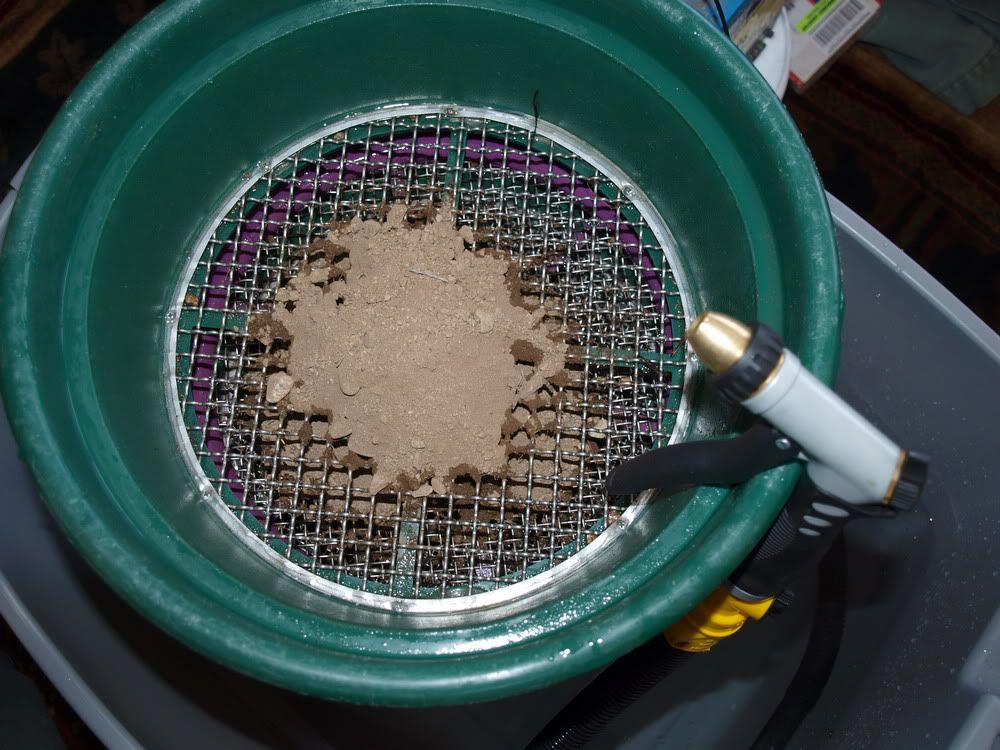 Rinsing it down trough the stack one screen at a time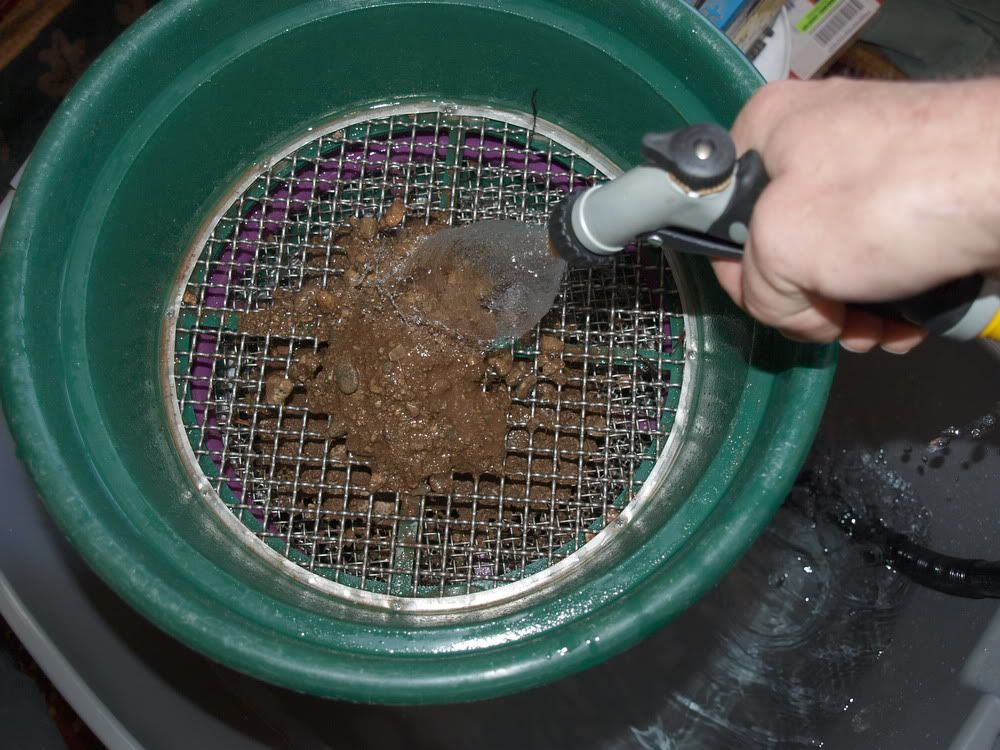 Starting to see colors in the #20 mesh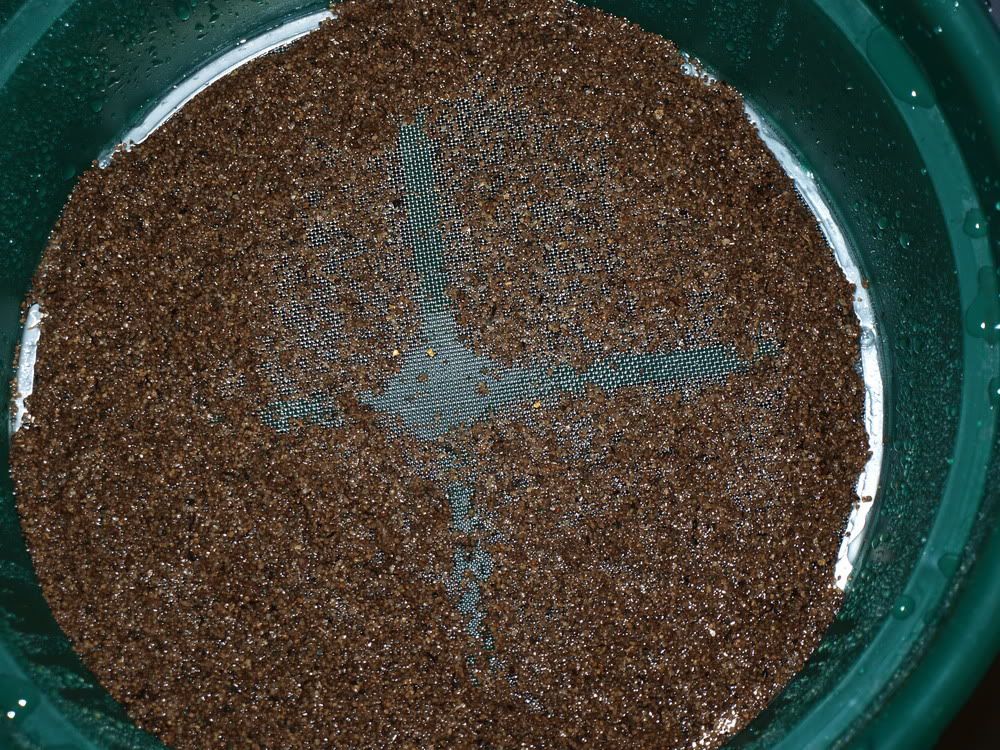 #20 - #2 mesh goes to the pan. Here's the #30 mesh and smaller that went to the bottom of the bucket. It will be classified in the next stack of screens: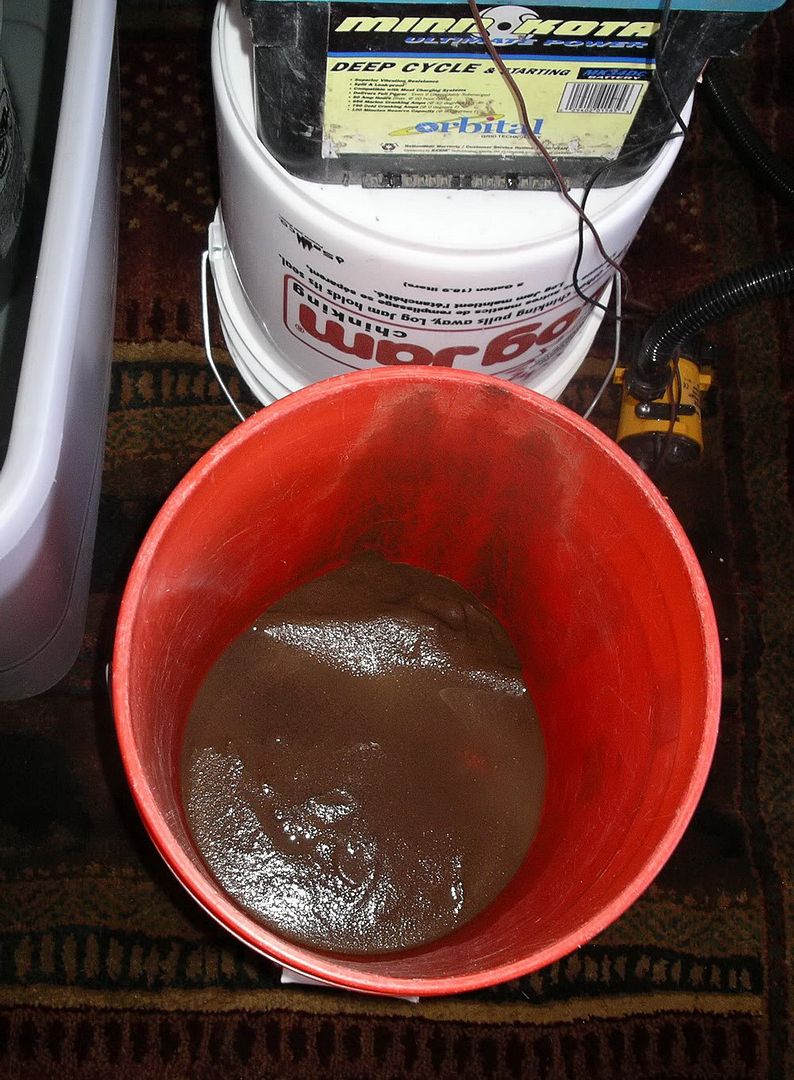 Next stack of screens #30 - #100. Each mesh class will be Blue-Bowled separately at different speeds.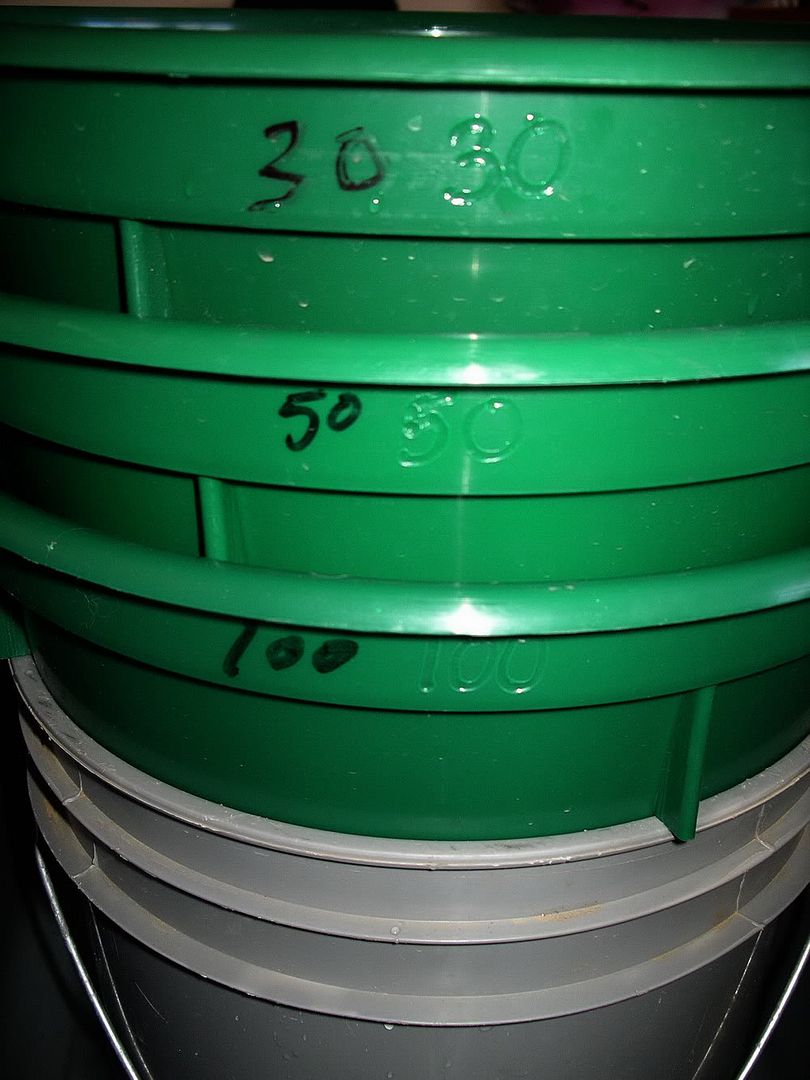 continued....