Posted by: ColoradoProspector Apr 28 2014, 03:29 PM
What happens when we get stir crazy in spring time?

Stuff like this……



We've decided to add a new LT club members sign up bonus, so let's have fun! For those of you thinking of lifetime club membership (thank you!), this will be an exclusive just for you all!!



Starting today (4/28/14) the next LT club members to sign up (paid in full*) will get their choice of flashy gems or minerals available in this thread

. Some will be cut stones and some will be specimens or ?.
How long will this bonus last?

....Why wait to find out! Sign up today and pick yours. We'd all be honored to have your participation.

*Lifetime club membership must be paid in full to receive a sign up bonus gem/mineral. This bonus offer also includes FY (yearly) members on the upgrade plan upon completion.



**Once activated you'll have a 14 day time limit to choose yours by posting here in this thread or pm/email us directly.

Handy club membership info & sign up page link

http://www.coloradoprospector.com/membership.html

Goodies to be added in separate posts, stay tuned.....

Posted by: Mrs.CP Jun 14 2014, 01:56 PM
This Colorado Amazonite beauty is one Dan and myself collected. It measures 14x17x20mm high. Color is close but a little off in this picture.



Posted by: Mrs.CP Jun 15 2014, 09:16 AM
This is a cute little specimen of Colorado Goethite collected and cleaned by Dan and myself. Fun stuff to find as they hide in the dirt and clay balls really well! I love the way the crystal burst out with a radiant starburst look from the center outwards.

It measures approx. 24x21x10mm high.


Posted by: Mrs.CP Oct 22 2014, 10:43 AM
Sweet choices everyone!! Looks like we may have to add more little lovelies to the pickings here soon.



Thanks for your long term participation and support in the Colorado Prospector club!!!


Posted by: Mrs.CP Jul 9 2015, 07:39 AM
The placer dirt gift went well so we are going to add another one.



This prize choice, a bag of CP Placer Dirt contains two-1 Lb. bags (1 average pan full), of unprocessed Colorado alluvial material for a real panning experience with a vial to place your finds in for displaying. It has at least 1 gold flake/picker and some fines, which we added to make sure everyone can find a nice gold smile in their pan.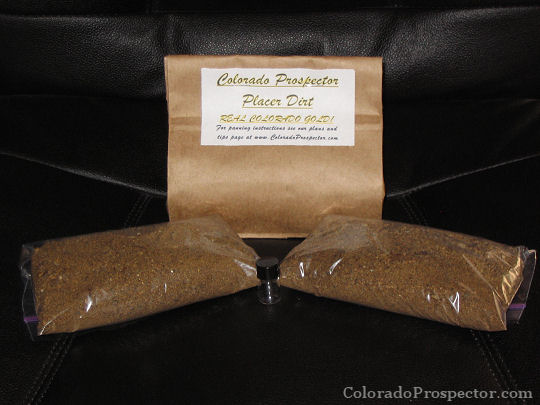 Posted by: Denise Jul 4 2016, 10:54 AM
This Colorado beauty is a smokey quartz crystal with a smaller quartz crystal beside it. Larger smokey quartz crystal is an inch long.



Chosen 8/13/17 by Mike J.!

Posted by: accomplish Aug 13 2017, 07:50 AM
Hello, this is Mike Julo, I purchased a LT memebership this past week and would like to select the smokey quartz crystal as my bonus sign up gift. Thanks

Posted by: Denise Aug 13 2017, 10:48 AM

Great choice Mike, it's even better in hand as you will see!



Welcome to the club and forums!
Make yourself right at home around the website and let us know if you have any questions.