Printable Version of Topic
Colorado Prospector - Gem and mineral prospecting and mining forums _ ColoradoProspector.com _ CP Treasure Chest
Posted by: ColoradoProspector Sep 22 2008, 05:58 PM
Hello everyone,

This is the new CP treasure chest! In future contests or drawings held here at ColoradoProspector.com, you might win the chance to pick your own prize from the treasure chest.
Keep your eyes open as you browse around the site and visit often because you just never know when or where the next contest or clue might be found!

As time goes on there will be additions to this thread for choices of goodies too.
This particular thread will be locked but feel free to start another about it with q's if needed anytime.

We like to do things a bit different around here and at events as many of you know.

Picking ones own prize for drawings/contests has always worked out well for everyone so we will continue that CP tradition online.


Following posts will have prize choices. See you all soon and good luck!

CP

Posted by: ColoradoProspector Sep 30 2008, 08:52 PM
Next in the treasure chest are 2 Smokey Quartz faceted stones.

1 round brilliant cut (girdle slightly uneven), beautiful light champagne color. 8.5 mm
Cut in the USA, Origin- Dreamtime mine, Lake George Colorado. Approx: 2.5 ct - lower right

1 tear drop cut medium-dark color 14 x 9 mm Approx: 4.46 ct
Origin unknown. upper left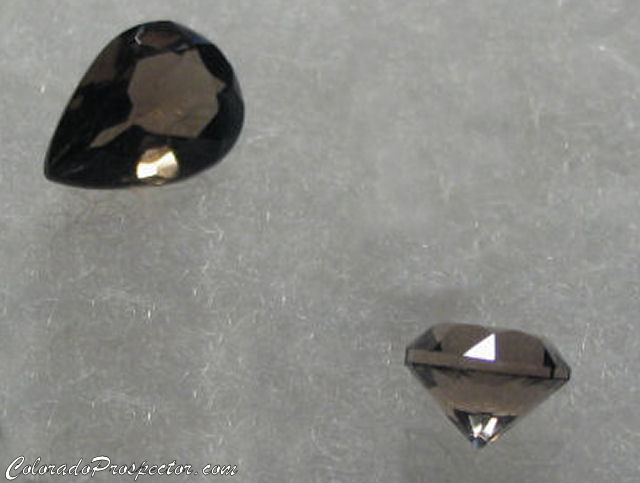 Posted by: ColoradoProspector Oct 14 2008, 07:06 AM
Today we are adding some antiques........a little something for everyone can be found in the CP treasure chest!

This is a set of 3 railroad spikes & 2 glass insulators.
One standard and two narrow gauge and the glass insulators are slightly broken.


Just some cool old stuff for someones collection. All from Colorado's old time.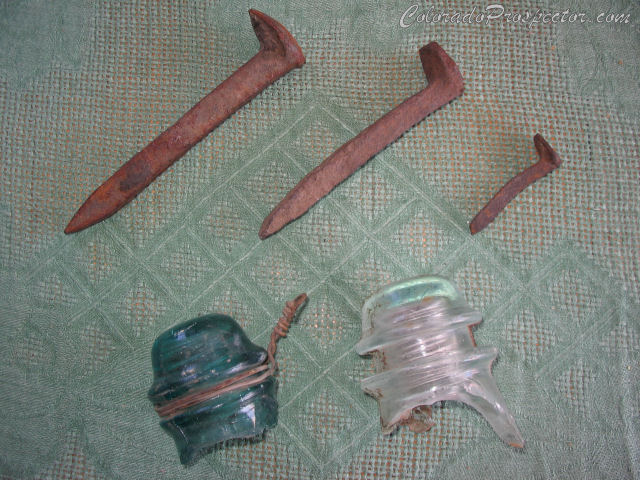 Posted by: Mrs.CP Apr 10 2009, 10:51 AM
This Oregon Thunderegg makes a great addition to the treasure chest, fresh off the polisher.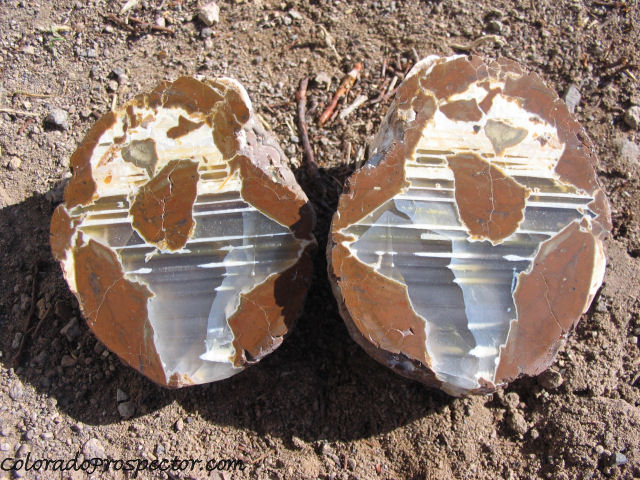 Posted by: Mrs.CP May 2 2009, 07:50 AM
You like antiques, and photography? This little Stereographic card of a floating dredge in the harbor will make a great addition to your collection.
In perfect condition, with the glass intact.

Posted by: ColoradoProspector Aug 25 2009, 08:37 AM
For this treasure chest choice we have a Colorado agate cut and polished, ready for display in your collection.



Size is approximately 2" wide x 2.75" deep x 1" tall. Really nice contrasting colors, dark concentric banding outside into white center banding and druzy pocket.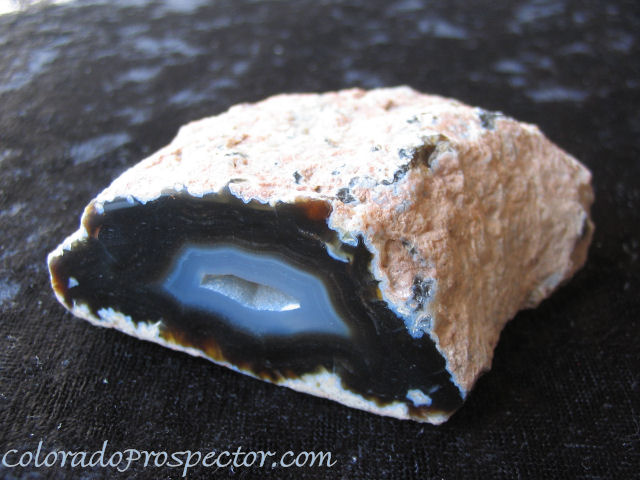 Posted by: Mrs.CP Mar 11 2011, 12:55 PM
This item is a Brazilian Agate stone guitar pick that I made. Its 2.3 mm in thickness, and has a beautiful pattern.

Posted by: Mrs.CP May 8 2012, 09:56 AM
This treasure is a Colorado Thunderegg pair, included is our last 4 oz. can of M-5 polish. The left half is polished and the right half is left rough. Someone can make their own specimen set from this lot.

Posted by: Mrs.CP Feb 22 2013, 07:00 AM
This treasure is a group of five hand crafted Opals. Total weight of all pieces is 1.5 ct. Smallest heart is 3.17 x 3.17 mm, second heart is 5 x 5 mm, third heart measures 6 x 6 mm. The egg shaped Opal mesures 7 x 6 mm and the circle measures 6 mm. These will make great inlays or small stones for a ring. Lots of flash in these Opals!


Posted by: Mrs.CP Dec 14 2014, 09:26 AM
This treasure choice the book "The First Space Race" was donated by RhodoRose. Both her and Matt (co authors) autographed it just for a fellow CPer.


Thank you for your great donation RhodoRose, it's definitely a treasure!!




Quote from the back of the book....

QUOTE
The First Space Race reveals the inside story of an epic adventure with world-altering stakes. From 1955 to 1958, American and Soviet engineers battled to capture the world's imagination by successfully launching the world's first satellite. The race to orbit featured two American teams led by rival services—the Army and the Navy—and a Soviet effort so secret that few even knew it existed. This race ushered in the Space Age with a saga of science, politics, technology, engineering, and human dreams.

Posted by: Denise Jul 21 2016, 11:30 AM
This is a great little treasure of polished watermelon Tourmaline slices, measuring approximately 8 mm. x 2 mm. in a small nugget case.

Posted by: Denise Aug 4 2016, 09:51 AM
This is a sweet little treasure was left from the 04' rally we held.


Package consists of 2 small bags of play sand salted with Gold and Oregon Garnets, weighing around 54.6 grams. and a package of Oregon Garnets weighing around 13.4 grams. Good way to test your fine gold recovery.


Posted by: Denise Aug 25 2016, 11:28 AM
Another sweet Smokey Quartz treasure donated by Colin and Glenda from their Endless claim. It measures approx. 2 1/2 inches long and 1-1 1/2 inches thick.

Posted by: Denise Apr 13 2017, 10:54 AM
This treasure will be a 1 lb. bag of placer dirt with this nice little nugget added to it.

Posted by: Denise May 25 2017, 06:23 AM
This sweet treasure will be a 1 lb. bag of placer dirt with these 3 nice pickers in it.

Great for panning practice!


Powered by Invision Power Board (http://www.invisionboard.com)
© Invision Power Services (http://www.invisionpower.com)