Home | About Us | Club Membership Details | News And Events | Miners Market | Forum/Message Board | links
Colorado Prospector club members - Click here to find your club membership benefits, links & info.

*Colorado ThunderEggs*

Colorado thundereggs often contain very solid agate with inclusions, banding and colors. Quartz crystals are also found in and associated with them, watch the ground closely when out prospecting for agates and mineral specimens.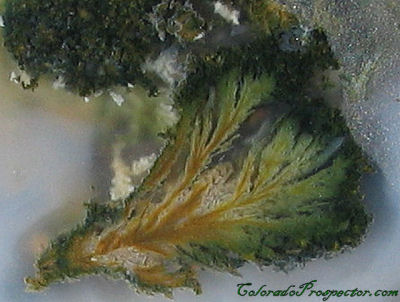 Colorado Thunderegg found by ColoradoProspector. Photo by Dan.

ThunderEggs fall into the Quartz family and are highly sought after by some collectors. Rather like geodes but forming in ryholite lava flows and are usually filled with chalcedony and sometimes banded "agate" or even large crystal forms in pockets like geodes. Thunder Eggs are the Oregon state rock.

Mohs hardness: 7

Common uses today - Mineral collections of specimen quality, home decor pieces such as book ends and for semi precious cabochon and stone work in jewelry.

Colorado Thundereggs - pictures in the CP forums.

From Wikipedia.com - ThunderEggs
"Thundereggs are rough spheres, most about the size of a baseball - though they can range from less than an inch to over a metre across. They usually contain centers of chalcedony in the form of agate, jasper or opal, either uniquely or in combination.
Also frequently encountered are quartz and selenite crystals, as well as various other mineral growths and inclusions.
Thundereggs usually look like ordinary rocks on the outside, but slicing them in half and polishing them may reveal intricate patterns and colors. A characteristic feature of thundereggs is that (like other agates) the individual beds they come from can vary in appearance, though they can maintain a certain specific identity within them."

Thundereggs are found all over the world where formation conditions are right. Many states in the USA including Colorado, New Mexico, and Oregon especially, are some of the most famous thunderegg locations.

Check out the Geode Kid's website for detailed information about ThunderEggs.
CLICK HERE TO GO BACK!
Site Design by Dan and Denise (Owners/Colorado Prospector)
---