Home | About Us | Club Membership Details | News And Events | Miners Market | Forum/Message Board | links
Colorado Prospector club members - Click here to find your club membership benefits, links & info.

*Colorado Microcline*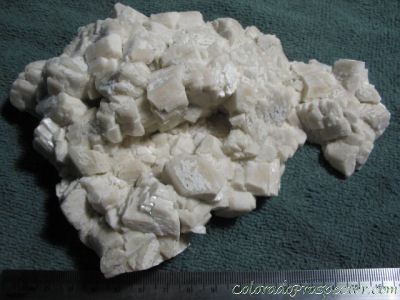 Microcline, a tektosilicate mineral with triclinic crystal forms.

Mohs hardness: 6 - 6 1/2

Common uses today - Used today in industry's for ceramics manufacturing and finishing (glazing), as well as glass production.

Colorado Microcline - pictures in the CP forums.

From Wikipedia - Microcline
"Microcline is an important igneous rock-forming tectosilicate mineral. It is a potassium-rich alkali feldspar, which is common in granite and pegmatites.
Microcline may be clear, white, pale-yellow, brick-red, or green; it is generally characterized by cross-hatch twinning that forms as a result of the transformation of monoclinic orthoclase into triclinic microcline.
Crystal Peak, Teller County, Colorado is a well-known locality for crystals of microcline."

Check out the Mindat.org database for detailed information about Microcline.
CLICK HERE TO GO BACK!
Site Design by Dan and Denise (Owners/Colorado Prospector)
---