Home | About Us | Club Membership Details | News And Events | Miners Market | Forum/Message Board | links
Colorado Prospector club members - Click here to find your club membership benefits, links & info.

*Colorado Jasper*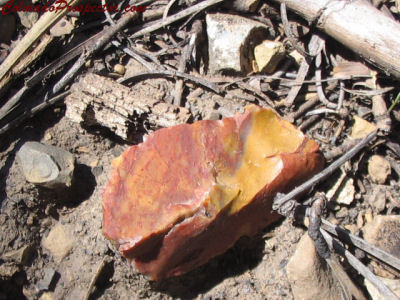 Jasper- A variety of the quartz family, an opaque microcrystalline formation.

Mohs hardness: 7

Common uses today - Cabochons and carvings for jewelry, scluptures and modern decorations. Historically jaspers were widely used for knapping (arrow heads, spears tips, knives, scrapers etc) across north america.

Colorado Jasper - pictures in the CP forums.

From Wikipedia - Jasper
"Jasper is an opaque, impure variety of silica, usually red, yellow or brown in color. This mineral breaks with a smooth surface, and is used for ornamentation or as a gemstone. It can be highly polished and is used for vases, seals, and at one time for snuff boxes.

Jasper can appear as an opaque rock of shades of red due to mineral impurities. Patterns can arise from the formation process and from flow patterns in the sediment or volcanic ash that was saturated with silica to form jasper, yielding bands or swirls in the rock."

Check out the Mindat.org database for detailed information about Jasper.
CLICK HERE TO GO BACK!
Site Design by Dan and Denise (Owners/Colorado Prospector)
---