We hope you will be able to find something helpful here. All the plans and techniques on this page were submitted by great people like yourself who have learned a few things over the years and was willing to share with all of us. If you have prospecting equipment plans you made or tips and techniques you would like to share, just e-mail me at Plans&Tips@ColoradoProspector.com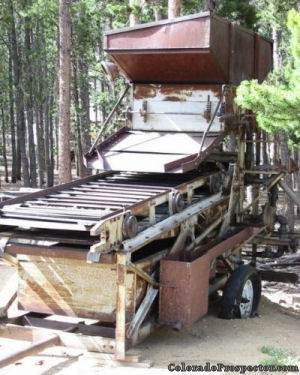 ****EQUIPMENT PLANS****


****INTERESTING TIDBITS****




Did you know? .... The price of gold during the 1880's was $18.14/ounce and the price of a shovel was around $8.50. The average price of gold during 2005 was $444.00/ounce and the shovel ran about $10.00-$20.00.....WOW!!!!

Did you know? .... YOU WILL CONSUME 5 OUNCES OF GOLD IN YOUR LIFETIME! Oh boy! Where am I going to get that?!

Did you know? .... Geologist's have said that it is estimated only 5% of the gold in Colorado's gold fields was harvested in the old days.

Did you know? .... All 50 states have petrified wood.

Did you know? .... Colorado is the nation's #2 producer of gold, Nevada being #1. (2005)

Did you know? .... A 12" dredge running on Alaska's 40 mile river measures no significant amount of turbidity 500' downstream!

Did you know? .... According to the FSM (Forest Service Manual) and FSH (Forest Service Handbook) No special authorization is needed for the use of ANY HAND CARRIED EQUIPMENT on national forest lands.

Did you know? .... The BLM and Corps of Engineers has determined that any equipment with intake nozzles of 4" or less to be deminimus, or in other words .....they create no significant disturbance.


REMEMBER......"IF YOU USE IT, THE GROUND PRODUCED IT!"